Public Meeting on Housing Affordability and Tenancy Laws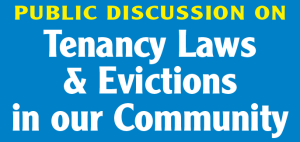 Date:
Thursday, March 17 -

6:00pm

-

7:30pm
Facebook Event
Carole has heard from hundreds of constituents over the last few months concerned about affordability and the availability of housing in our community. It continues to be one of the top affordability worries in Victoria, for families, seniors, individuals, and the homeless.
The issue of "renovictions" – a tactic used by some landlords to evict renters under the pretense of renovating so that they can increase the rent, is just the most recent example.
Our Residential Tenancy Act needs to be strengthened, so that it is fair to both landlords and tenants, and protects tenants against unscrupulous practices by some landlords.
Please join Carole James and MLA David Eby (opposition spokesperson for housing) for a public discussion on our tenancy laws and the need for more affordable housing.