Beyond the Numbers: a forum on BC's budget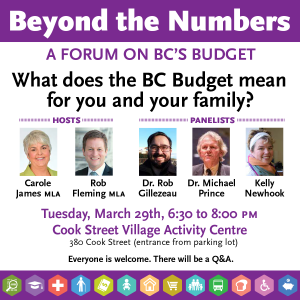 Date:
Tuesday, March 29 -

6:30pm

-

8:00pm
Facebook Event
What does BC's provincial budget mean for you and your family?
Join Carole James and MLA Rob Fleming as they co-host a public forum and discussion on the 2016 provincial budget, and how it will affect our communities and our families.
Panelists include:
Dr. Rob Gillezeau, assistant professor of economics at the University of Victoria, and former chief economist to the Leader of the Official Opposition in Ottawa. Dr. Gillezeau's research interests include Economic History, Labour Economics and Public Policy.
Dr. Michael Prince, Lansdowne Professor of Social Policy at the University of Victoria. Dr. Prince's research interests include trends in social policy over the past 50 years and the next generations, federal-provincial relations, indigenous governance, and disability politics and policy issues.
Kelly Newhook, Executive Director of the Together Against Poverty Society (TAPS). TAPS is the only organization in Victoria providing free, face-to-face legal advocacy for people with income assistance, disability benefits, tenancy and employment standards issues, assisting over 5,000 people each year.
Panel speakers will be followed by a Q&A from the audience.